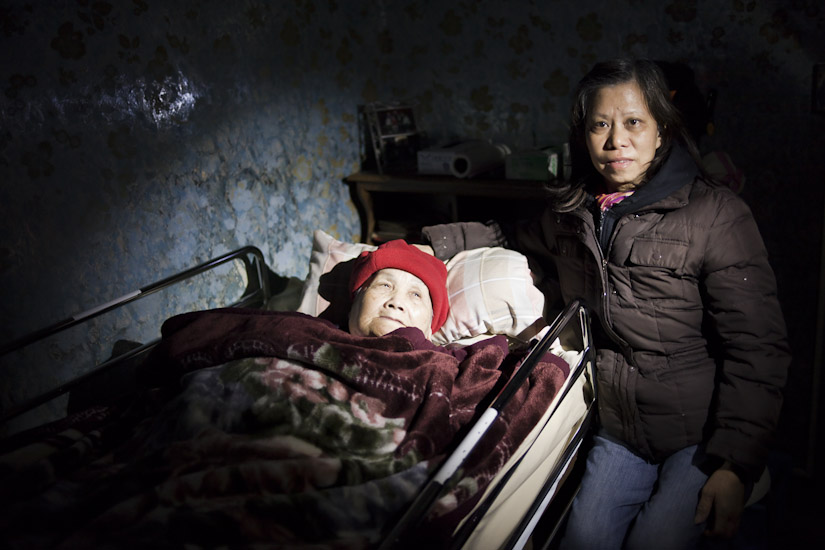 Saturday, Nov. 10, 2012: Chan Yin is a home health aide who looks after 93-year-old Liang Xiushi in the apartment she shares with her husband on the 7th floor of 16 Monroe Street in Knickerbocker Village. Without electricity, she is unable to operate Ms. Liang's hospital bed to prop her up while feeding her, or to lift her out of bed. Their apartment has been without heat, hot water or cooking gas for almost two weeks now.
Twelve days after Hurricane Sandy – and more than a week after the lights came back on in the rest of the neighborhood – many residents of the 1930s twelve building low and middle income housing complex still live in apartments without electricity, heat or hot water. Garbage chute  compactors are backed up, and least one building does not have cooking gas.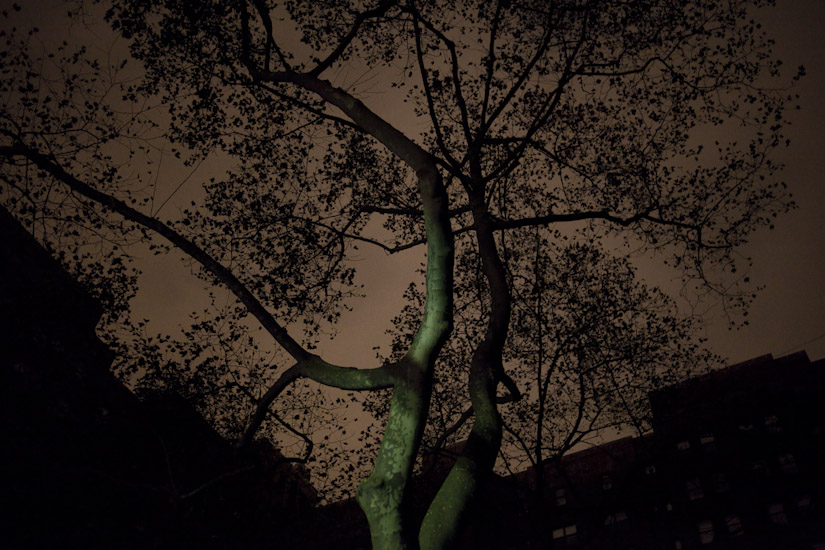 Justin, who turned eight the previous week, lives on the second floor of 18 Monroe Street in Knickerbocker Village with his 71-year-old father Chan Pit Wa. After going for almost two weeks without electricity, his father is now trying to send him to live with his mother in Hong Kong, fearing he can't care for the boy under these circumstances – his health is failing, and he hurt his back when falling in the dark staircase of the building. The unheated apartments are cold, and the day before Justin accidentally set his homework on fire while trying to work by candle light.
Hamilton-Madison House is operating a warming center at 50 Madison Street, with warm meals provided by the Red Cross and assorted  neighborhood businesses, church and volunteer groups.  For more in-depth coverage of issues affecting Knickerbocker Village, check out The Lo-Down neighborhood blog.
See selected images from my coverage of the initial days of the black-out here; a more complete set of images can be found here.
UPDATE – Sunday, Nov. 11th, 2012:
Some more residents regained electricity  over the weekend, while building management can't estimate how long it might take to restore functionality to all apartments in the almost 1,600 units of the pre-war complex. Steam heat may not be restored for weeks to come.  Delivery of Red Cross provided warm meals to homebound seniors continues, but at many apartments there is no response, previous meals sitting untouched on the door step and no notes left whether residents may have been evacuated.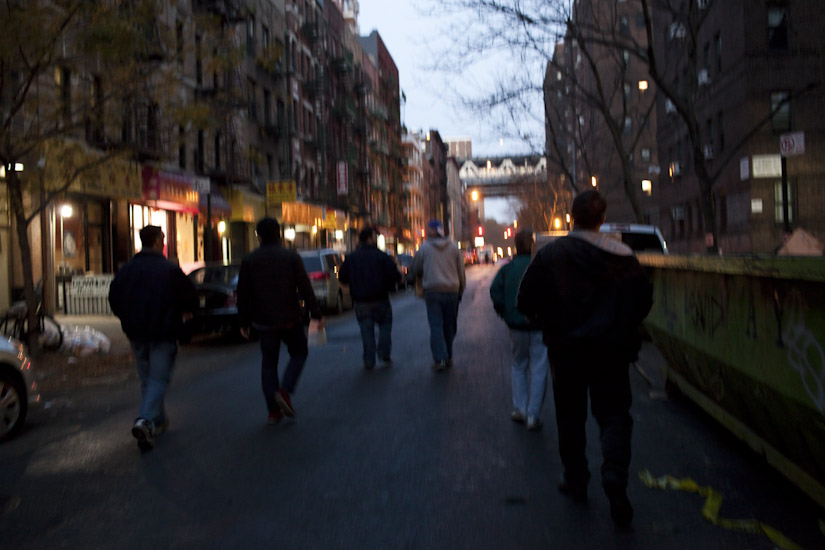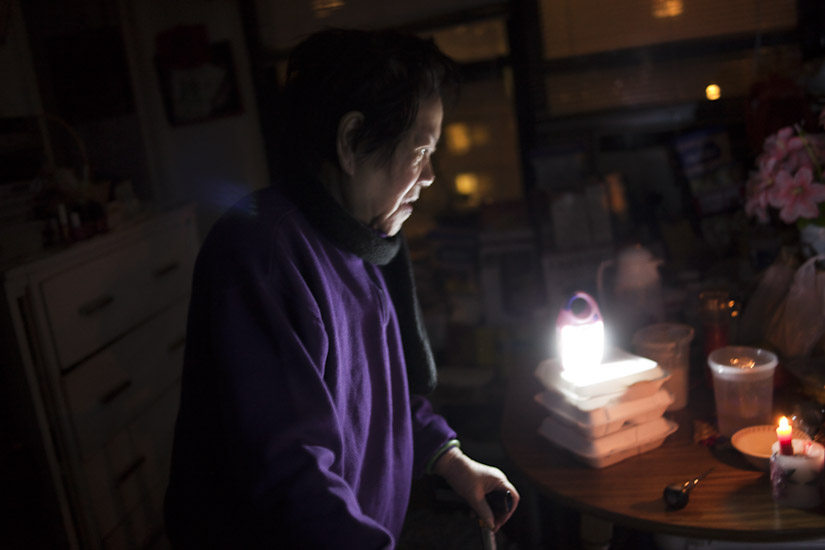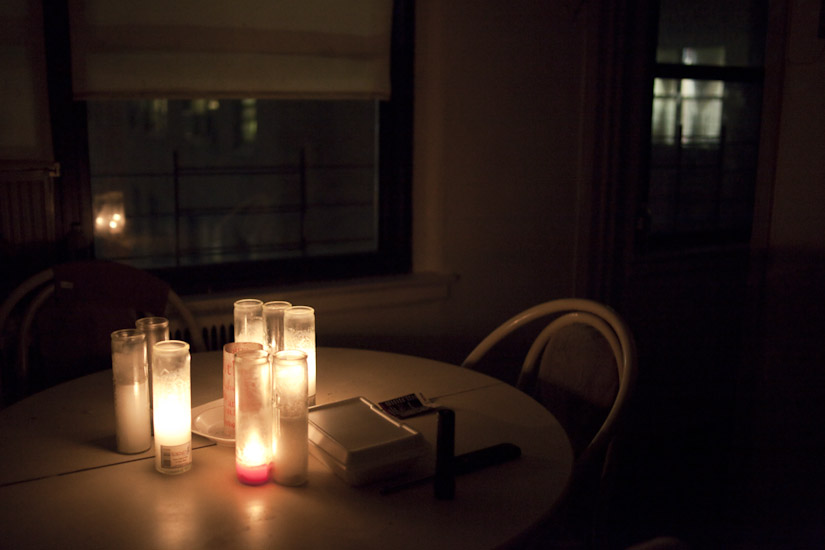 Liu Zhen, age 85, lives by herself without heat, electricity or hot water on the 10th floor of 38 Monroe Street in Knickerbocker Village. (above)
Tempers are beginning to flare, with tenants calling for a rent strike, and assorted flyers laying blame on both management and the official tenants' organization.
Below:
Marion Fox, in her 80s, lives by herself without heat or electricity; she bundles up in layers and boils water on the stove for warmth.
Views of the eastern courtyard complex of 30-32-34-36-38-40 Monroe Street in Knickerbocker Village show some apartments that regained electricity, while half the buildings remain without power.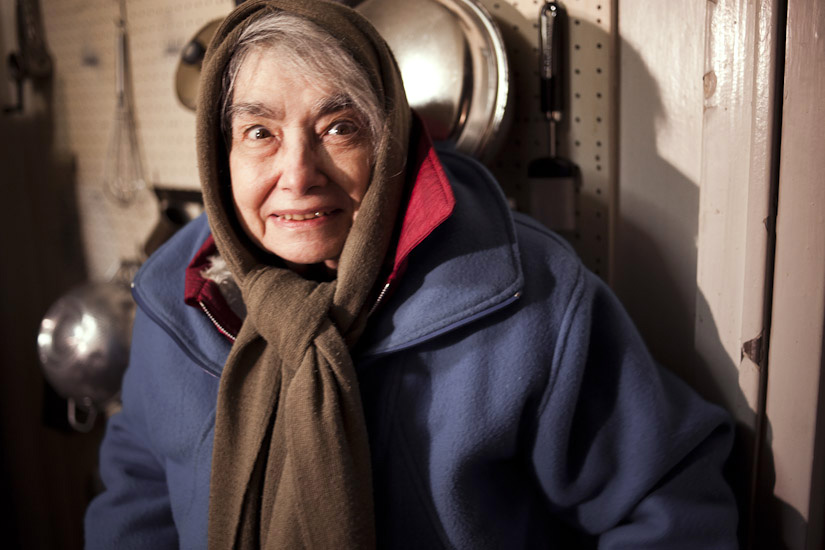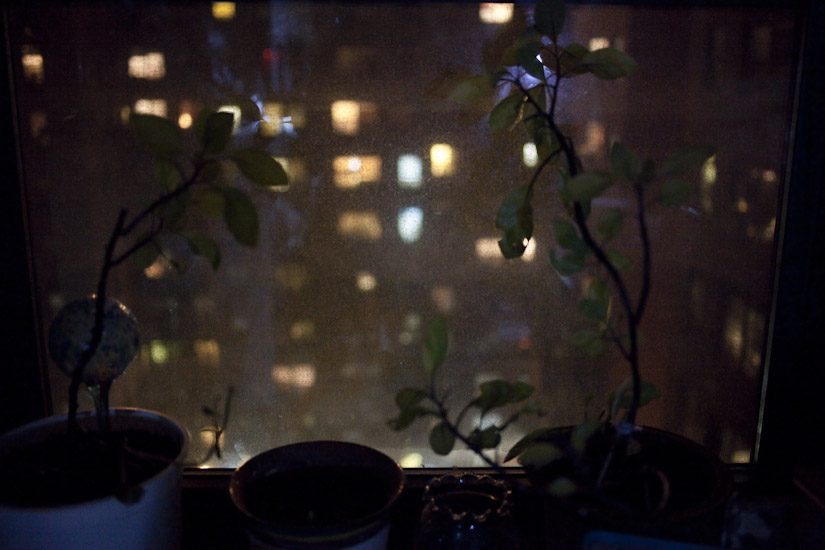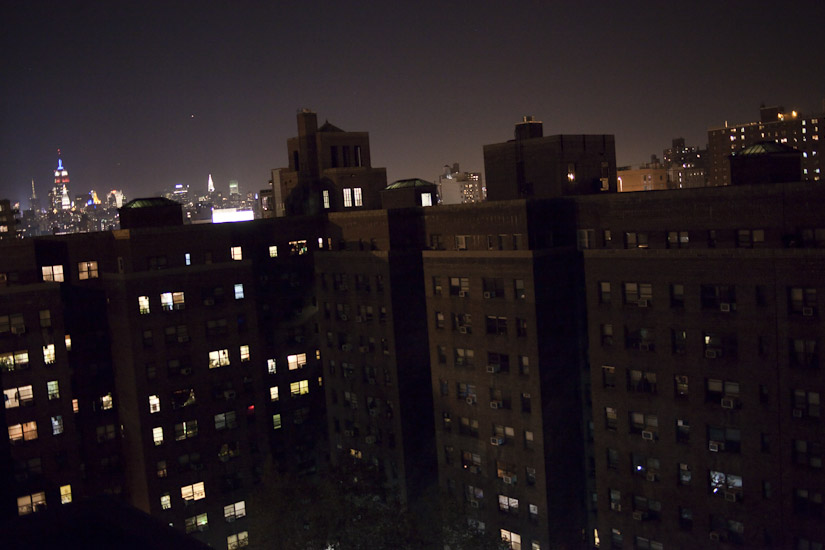 UPDATE – Saturday, Nov. 17th, 2012:
The good news is that as of November 15th, power has been restored to all Knickerbocker Village apartments, elevators are working, and heat and hot water are available again in most units. After two and a half weeks without these basic services, one main lesson learned is the importance of communication – much frustration could have been avoided had there been better attempts at updating residents on what was going on, and what to expect. After initially skirting the issue, KV management has now taken the step to assure their tenants that no one will have to pay rent for days during which essential services were not in place. On a larger scale, questions remain as to the responsibilities of real estate developers towards their buildings' occupants, something that is sorted out and fought over throughout the city now. In the end, it seems like a patchwork of concerned groups and individuals was able to ensure that the most vulnerable residents weren't completely left to their own devices, but surely, lessons can be learned here when it comes to large scale housing developments and disaster preparedness.
As I mentioned before, the main thing I took away from what I witnessed over these past couple of weeks was a real life reminder of the importance of a vibrant network of civic and political organizations, and Chinatown really delivered on that front. It was a pleasure to see such a diverse group of people and organizations work so well together in a crisis situation, from elected officials to neighborhood not-for-profits and community activists, from lion dance youth to local businesses and churches, and from first responders to individuals coming from all over to lend a hand… The American spirit of volunteerism is a wonderful thing, but without the people on the ground who have been dedicated to organizing this community over many, many years, and who were incredibly skilled in managing the outpouring of good will, things would have never worked out as well. So, hat off to the community – it really made me proud of New York!
Take a look at how this story ran in Businessweek.com.