In honor of this year's World AIDS Day, I decided to reach out to some of the former Camp Heartland kids who were featured in the OSF Moving Walls 11 exhibition, or had been profiled in the book that I co-produced for the HIV/AIDS NGO's peer prevention outreach. It has been 15 years since I first began photographing and interviewing teens who were facing the continuing stigma surrounding HIV, and all these years later, given our new sharing culture and social media connectivity, it seemed time to follow up.
The series ran over at the Open Society Foundation's Instagram feed this week, presenting updates on the young people's lives, as well as their thoughts on growing up, secrecy and disclosure, friendship and loss, and surviving against the odds. To be continued.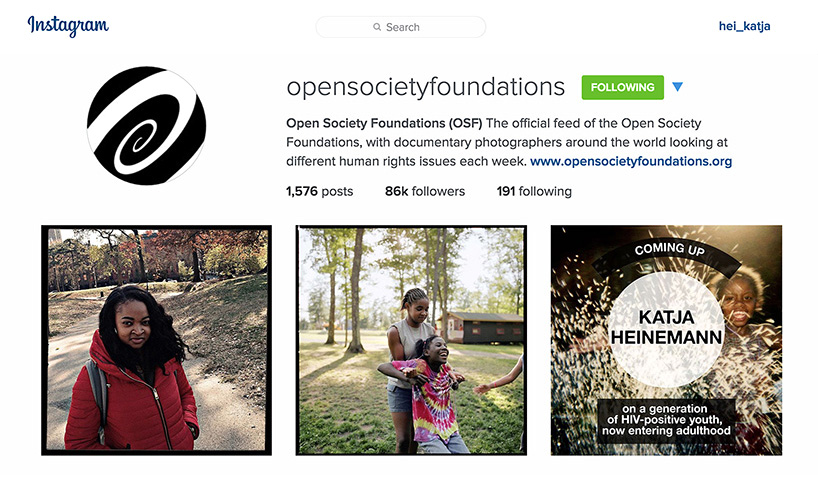 It's been wonderful, and also sobering. Many of the "kids" are doing great, and this was a terrific excuse to reconnect and chat by phone. Many are moms and dads themselves now. There's roofers and rappers, stay at home mothers and biomedical researchers. Teachers. Social workers. On Facebook, I am allowed a glimpse into their lives.
But then, of course there are also the reminders that HIV/AIDS is very much still with us, and how little progress there has been when it comes to eradicating stigma, or teaching the next generation of young people about healthy sex. People are still afraid. People are still dying.
For a complete collection of images, both original work from 2000 – 2005, and the young adults' social media pictures, visit the facebook album.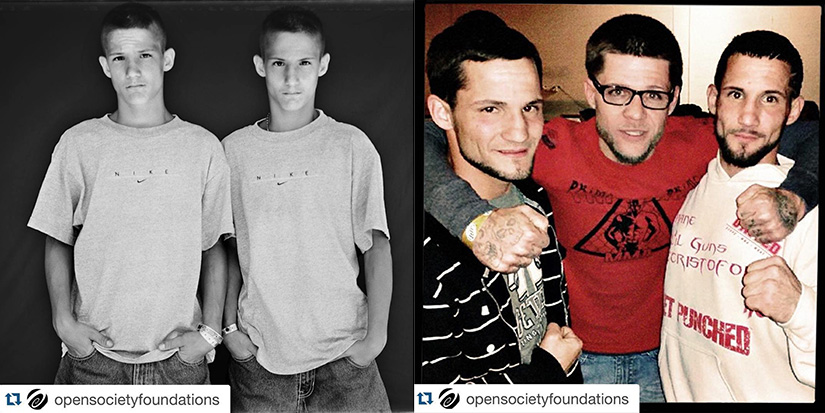 SHERIDAN (left) and SHANE– twins, at age 14 and age 28:
Sheridan: I didn't get to enjoy my childhood as I should've. I worked, I took on responsibility and I always helped my mother as much as I could. You know, I can't really say it was a bad thing because it made me who I am today. My kids don't have to worry about what they're gonna eat, or what they're gonna have to wear, or what people think of them. They're assumed equal, so that's a good thing for them.
Shane: Not having to deal with a lot of stuff we dealt with. Nobody is bullying them about their grandma having HIV.
Sheridan: We try to make the best of it, and enjoy it, and hopefully they'll grow up and be happy, and give love like our mother taught us to. So, that's what we're trying to do.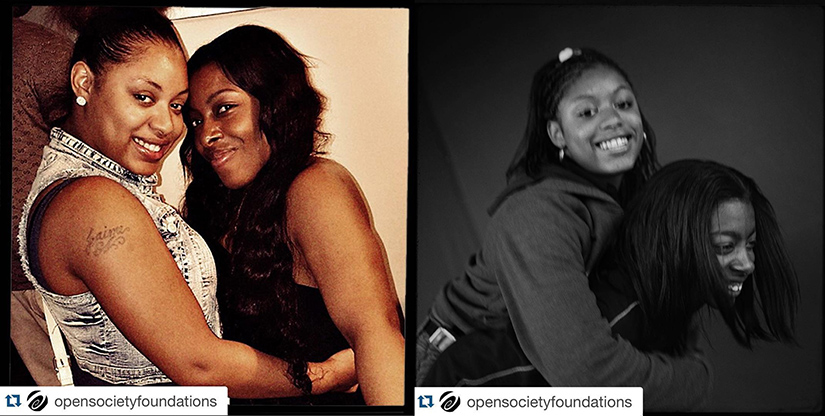 ASHLEY (left) and BULINA– at age 27 and age 16 – lost their cousin to HIV/AIDS.
Bulina: When I see some of the childhood friends that made her feel the way they did, I can be more cordial now, but I still get upset. I think of how different things could have been for her. I would never, ever, forget how miserable they made her feel.
Ashley: Now that you're older, do you think it was just something that was childish that they were doing?
Bulina: Yes and no. A lot of people are not educated. Pinky was my cousin, but my father also had AIDS, and I have family members that acted different around him, even as adults. So, you want to blame it on just childish immaturity, but there are adults that are the same way.
Ashley: It's not surprising. Because that's how they was brought up. So it goes deeper than that.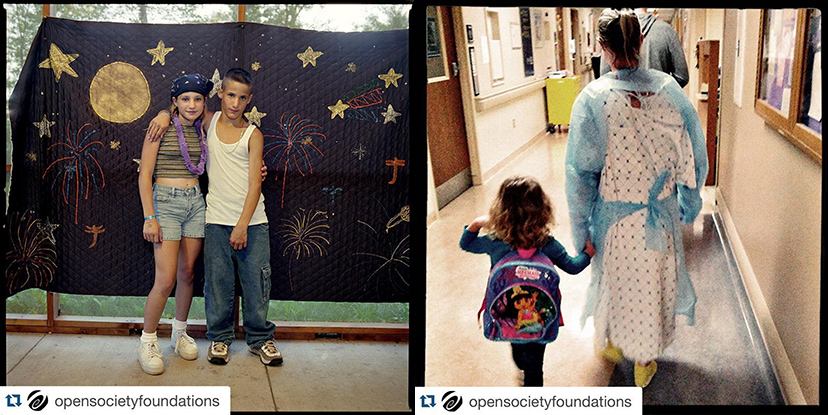 LESLIE, at age 25: I don't know why, I just wanted to be dead, because I was so sick and tired of going through all the treatment for cancer. At 20, 24 years old, I'm supposed to be having fun, going out with friends, going different places, but I'm sitting here in a hospital bed, I'm living in a hospital. All you see is white walls, the white coats on doctors. White everything. I wanna finish my schooling, and I want to be a pediatric physical therapist.
I'm trying to make healthier choices. Because I'm a mom now, and I want to show my daughter good lessons. Right now life is about Gabriella. I do remember the exact day that I started taking my meds because Gabriella looked at me dead in my face, and she's like, 'Mommy, take your meds.' I don't know what it was, something just clicked.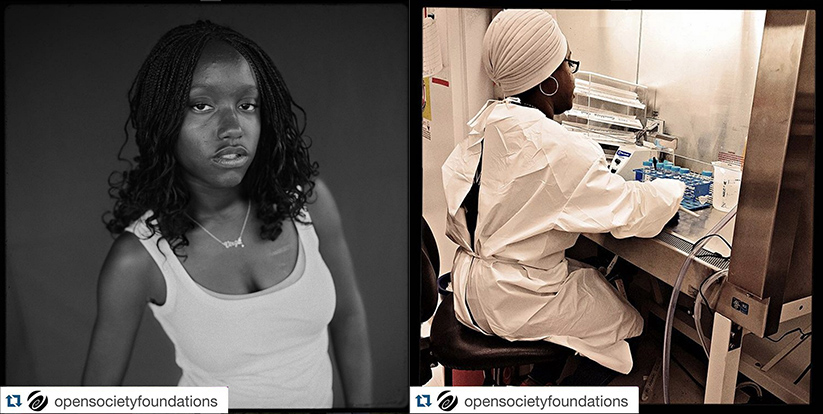 TIA, at age 14 and age 26:
The picture definitely stands out to me. It's probably one of the realest pictures of me, I think it shows a side of me that I don't show people. It captures all of the things that I normally feel that are deep down inside but I never let them come out. You look at a captured moment and it's like, oh wait, I don't know if I can really go through what that person is going through. It makes you want to know more about that person. When you show your private self, I think if another person sees it, they're able to see that person is also human: take a walk in my shoes.
So many people around me were dying… to sit there and see somebody die from something that I can possibly die from, too, is a very, very scary thought. It's a sucky feeling. I don't think about dying as much anymore. I think about why did I make it, and why did some of them not make it.
I think of it more as like a battle, like I'm at war – like I'm at war with my own body. And I wanna win the war. I want to work in the field, I want to make a contribution. For two summers in undergrad I did the monkey version of HIV – that was my first encounter of fully, fully understanding what was going on in my body. And it was really cool to be able to work on my own virus.